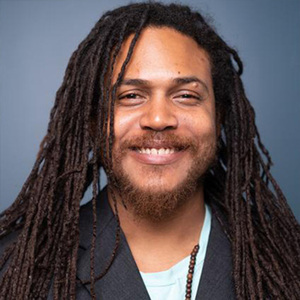 Atman Smith
Special guest
Atman Smith is a Co-founder of the Holistic Life Foundation, where he served as Director of Youth Programming for ten years, Director of Fundraising for five years, and currently serves as the Director of Development. Since 2001, he has been teaching yoga and mindfulness to a diverse population including underserved and high-risk youth in Baltimore City Public Schools, drug treatment centers, wellness centers, and colleges. A native of Baltimore, Atman attended the University of Maryland, College Park where he was a letter award winner for the University's men's basketball team. He graduated with a B.A. in Criminology and Criminal Justice.
Atman Smith has been a guest on 2 episodes.
February 25th, 2019 | 39 mins 41 secs

"Personally in ten years I see mindfulness implemented in every aspect of life -- whether it's school -- like a school will have like a mindful moment at the beginning of the day and at the end of the day and have alternative suspension rooms where kids de-escalate themselves. It would be cool if you know every business started their day off with the practice. I'm not saying that it's definitely going to get there, but you know I can have high hopes and be optimistic."

April 23rd, 2018 | 49 mins 14 secs

holistic life foundation, meditation, public schools, yoga

The Holistic Life Foundation is a Baltimore-based 501(c) (3) nonprofit organization committed to nurturing the wellness of children and adults in underserved communities. Through a comprehensive approach which helps children develop their inner lives through yoga, mindfulness, and self-care HLF demonstrates a deep commitment to learning, community, and stewardship of the environment. HLF is also committed to developing high-quality evidence-based programs and curriculum to improve community well-being. Listen as we discuss the Foundation and Naropa with its founders.