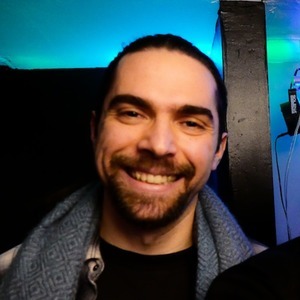 Gabriel Vanaver
Special guest
Gabirel Vanaver (Gah-bé) is a Cyr wheel artist, a musician, a spoken word artist, a storyteller, a poet, a dancer of hip-hop, lindy-hop, house, modern, tap, clogging and other urban and traditional folk dance styles, an audio engineer, a massage therapist, a yogi, a passionate chef, a philosopher, an idea and a way of life. All of these aspects make up Gah-bé as he appears today, but no one aspect defines Gah-bé. Because his worldview consists of his innate sense of always redefining and constantly becoming. Because every day has the potential for one to become even more awesome than they were the day before.
Gabriel Vanaver has been a guest on 1 episode.
February 18th, 2019 | 38 mins 28 secs

"Art and music is such a visceral thing, and it's so experiential. And storytelling is a way to convey eons of moral compass and tradition as well. Every culture of the world has their own stories, and by telling those you don't tell people, 'This is the exact history, and this is what happened, and this is what happened.' It's more like these myths emerge through these cultures that people really latch on to and people connect with. And so, I was hoping to kind of create this new myth in a way to connect people to nature as well as humanity and compassion for other people."